Dr. Steve Hofmann
Chiropractor
Dr. Steve Hofmann is a fully licensed Doctor of Chiropractic. He is a highly motivated individual who is passionate about improving the health of his community. Dr. Steve completed his Bachelor of Science degree in Kinesiology at Simon Fraser University in Burnaby, BC. He graduated with distinction, and also received certificates in both Applied Human Nutrition and Health and Fitness Studies. He then packed up and headed east to pursue his chiropractic education at the Canadian Memorial Chiropractic College in Toronto, ON. Dr. Steve graduated with summa cum laude and clinical honours, achieving the highest academic standing in his class over the four year program. He received numerous awards for both his academic and practical achievements.
Dr. Steve is a full body certified Active Release Techniques® and Graston Technique® provider. He is a Certified Strength and Conditioning Specialist® (CSCS) through the National Strength and Conditioning Association® (NSCA) and an Athletic Movement Assessment certified practitioner. He is also a provider member for the Exercise is Medicine Canada professional network. Dr. Steve has a special interest in the management of sport-related concussions, sports and running/gait-related injuries as well as non-operative treatment approaches for lumbar spinal stenosis. 
Dr. Steve is a member of a Practice Based Research Network (PBRN) who's goals are to conduct practice-based research and facilitate a shift towards evidence-informed health care for practicing chiropractors. He feels that a collaborative patent-centred approach is in the best interest of his patients, and strives to work with other health care professionals including medical doctors, orthopedic and other medical specialists, physiotherapists, occupational therapists, naturopaths, acupuncturists, kinesiologists and massage therapists.  Dr. Steve has also taught at the Okanagan Valley College of Massage Therapy (OVCMT), in the areas of musculoskeletal anatomy, biomechanics and kinesiology.
Chiropractic has inspired Dr. Steve to work with patients to identify the underlying cause of their condition, and to help provide strategies for effective self-management. He strives to empower patients to become active participants in their own care, and loves helping patients achieve their personal health or performance goals.
After years in the big city, Dr. Steve is happy to get back to his small town roots. Born and raised in Grand Forks, BC, he is very excited to now call Vernon home. When not in the clinic, you will find him on the trails running or mountain biking. And, if there's snow on the ground, chances are he will be strapped into skis or a snowboard! 
Dr. Laura McPherson
Chiropractor
Dr. Laura McPherson is a fully licensed Doctor of Chiropractic. She takes great pride in applying what she knows to each patient, and ensures that each individual receives the highest standard of care. Dr. Laura completed her Bachelor of Science in Kinesiology at the University of Alberta prior to graduating with clinical honors from the Canadian Memorial Chiropractic College in Toronto. Dr. Laura is full body certified in Active Release Technique®, Graston Technique® and Kinesio Taping®. She is a certified Contemporary Medical Acupuncture provider from McMaster University, and has her Sport First Responder certification. Dr. Laura is also certified in the Webster Technique and is working towards her Pediatric Certification of Proficiency through the International Chiropractic Pediatric Association. Along with all of her designations, Dr. Laura continues to take courses in functional assessment and sport therapy and has a passion for applying the most current methods to her practice.
Chiropractic has inspired Dr. Laura to work with people of all ages to reach their optimal health, function, and performance. She prides herself on her ability to listen and relate to her patients, working with them to reach their personal goals. Dr. Laura has experience working with infants, children, pregnancy related conditions, and athletes of all levels, including elite athletes. She has worked with sport teams as their team chiropractor and has attended various volunteer treatment outreaches including the Great Canadian Death Race, multiple marathon and triathlon events.
Dr. Laura is a long time competitive and recreational athlete who enjoys cycling, swimming, running, hiking, snowboarding, ultimate Frisbee, fitness training, and walking her dog Luna. 
Raised in Grande Cache, Alberta, Dr. Laura is excited about the opportunity to practice in Vernon, and becoming involved in the community.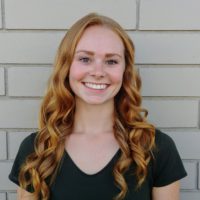 Brooke Hackle
Registered Massage Therapist
Graduating from the Okanagan Valley College of Massage Therapy in 2016 and a member of the College of Massage Therapists of BC, Brooke is beginning her career as a RMT with a fresh perspective and enthusiasm towards the health care profession.
Brooke's interest in massage therapy started with the desire to help people. Her passion for human biology, kinetics and health led her to receive top academic and practical awards during her studies. Brooke takes time to listen to her clients needs in order to create an effective treatment plan for each individual. You can expect treatment to begin with a thorough interview and assessment, followed by techniques such as myofascial release, swedish massage and neuromuscular therapy, leaving time to instruct appropriate home care.
Brooke originally moved to the Okanagan to attend college, but fell in love with the area in the process and decided to make it her new home. While growing up in Smithers, she was involved in sports and other recreational activities offered in the area. She is excited to explore the Okanagan, continue her love for sports and be an integral part of the team at Bluebird Sport & Spine.